Overview of Services
The Genome Editing Shared Resource of Rutgers-CINJ (GESR) is a state-of-the-art university core facility that offers services related to the creation of mouse and cell line models for the Rutgers research community. GESR utilizes the latest in genome editing technologies, particularly CRISPR-Cas9, to make precise genetically modified animals and custom modified cell lines tailored to the needs of our investigators.

In addition to gene editing, GESR offers traditional services such as DNA/BAC microinjection to make transgenic mouse lines. The GESR can assist investigators in banking their lines by sperm or embryo cryopreservation.
GESR utilizes in vitro fertilization (IVF) and embryo rederivation to facilitate import of lines from external sources or from rooms of lower health status into clean facilities. IVF may also be used to quickly expand colonies.
Rutgers GESR offers the following services:
Mouse model generation

Cell line gene editing

Mouse line cryopreservation

Mouse line rederivation

Design and production of CRISPR vectors

PCR Genotyping

Founder breeding
The GESR can also work with you on special projects to study embryonic development, in vivo gene editing/therapeutic models and control of gene expression using CRISPR-based activators/repressors that go beyond gene editing.
WHAT'S NEW and AVAILABLE from Rutgers Genome Editing Shared Resource in 2022?
FYI - 03/31/22 - GESR will begin billing as projects progress for services rendered as they are completed then finalize billing at completion.
EFFECTIVE 09/01/21 - GESR fee increase. Projects initiated after 09/01/21 will be charged new fees. Additional services added to exsisting projects after 09/01/21 will also be charged new fees.
NEW - Cell line gene editing is now offered as a service. We have our own microfluidic fluorescent cell sorter that allows us to generate single-cell clones.
Contact us to discuss your project.
NEW - Efficient targeting at H11 locus (a safe harbor locus that is an alternative to Rosa26). Expand your repertoire of targeted lines with new reporters expressed from the H11 locus.
Also, instead of making traditional transgenics with variable expression, knock it into H11 instead to get reliable expression and screen fewer lines.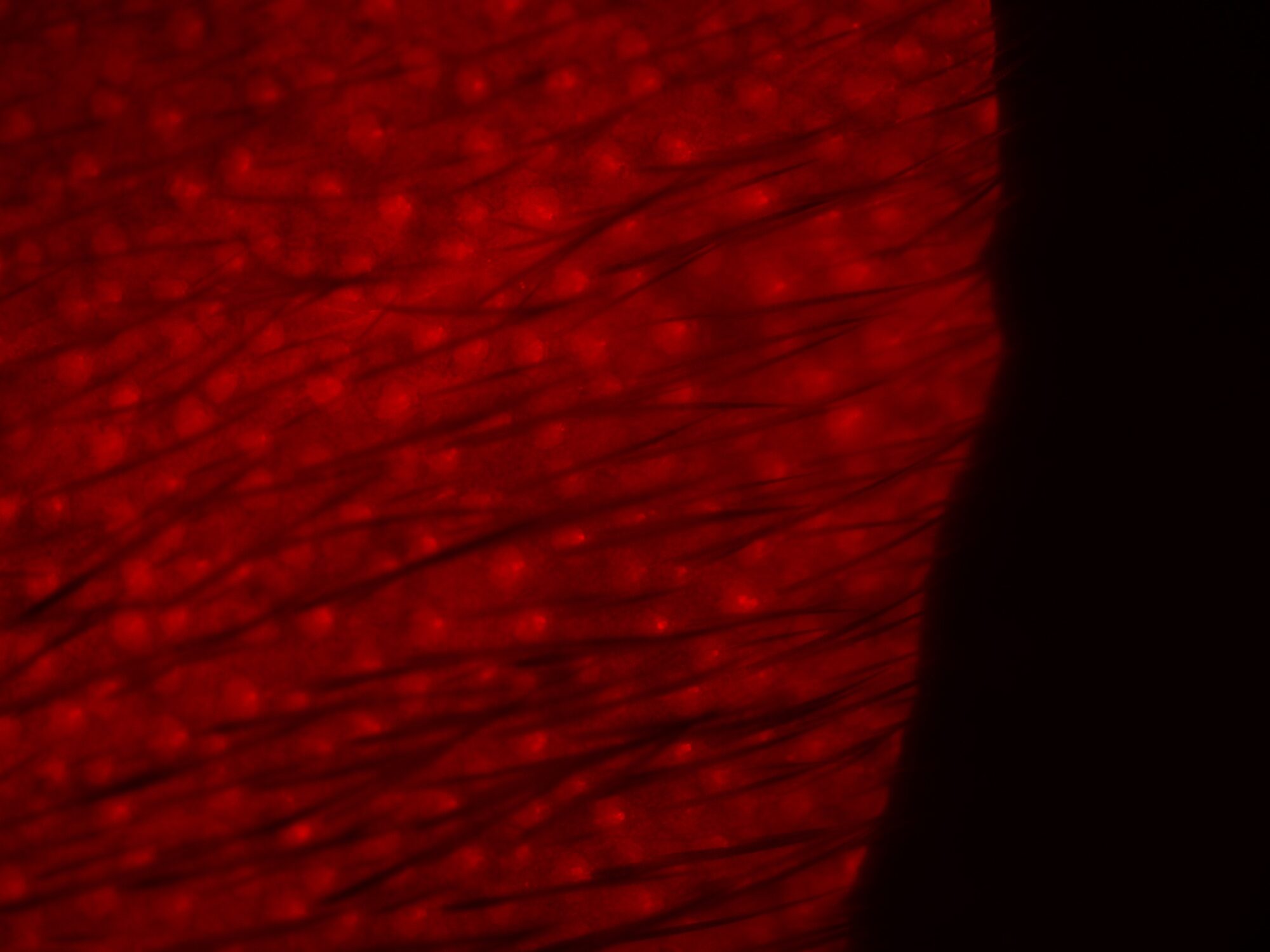 Fluorescent microscope image of an ear punch from a mouse with a single copy
Cag-mCherry transgene knocked-into the mouse H11 (safe harbor) locus using CRISPR-Cas9
NEW - Direct knock-in into NSG background (or any strain background, just inquire)
NEW - Ask us how you can KO up to 10 genes simultaneously in vivo in a tissue-specific manner using our own experimental conditional Cre-mediated Cas9 expression system.
Leadership
Location and hours of operation
Hours
Location

Monday - Friday
9AM - 5PM

89 French Street
New Brunswick, NJ 08901
Search available services:

View: by category alphabetically
►

Genome Editing Shared Resources Services (4)
Name
Description
Price

Mouse Model - PCR Genotyping

PCR Genotyping per reaction

Inquire

Colony Breeding

The GESR can breed founders to get germline transmission of your CRISPR-made mouse models or briefly expand your colony to generate mice for cryopreservation. In instances where there is only one confirmed founder or for conditional lines, we highly recommend founders are bred by GESR. 

Inquire

Mouse - C57BL/6J

The GESR can provide, in limited quantities and as available, male and female mice (age range ~ 3-8 weeks, cannot be specified) for breeding. 

Inquire

Consultation

Consultation/hour

Inquire